Here is the most robust Android tablet I have ever tested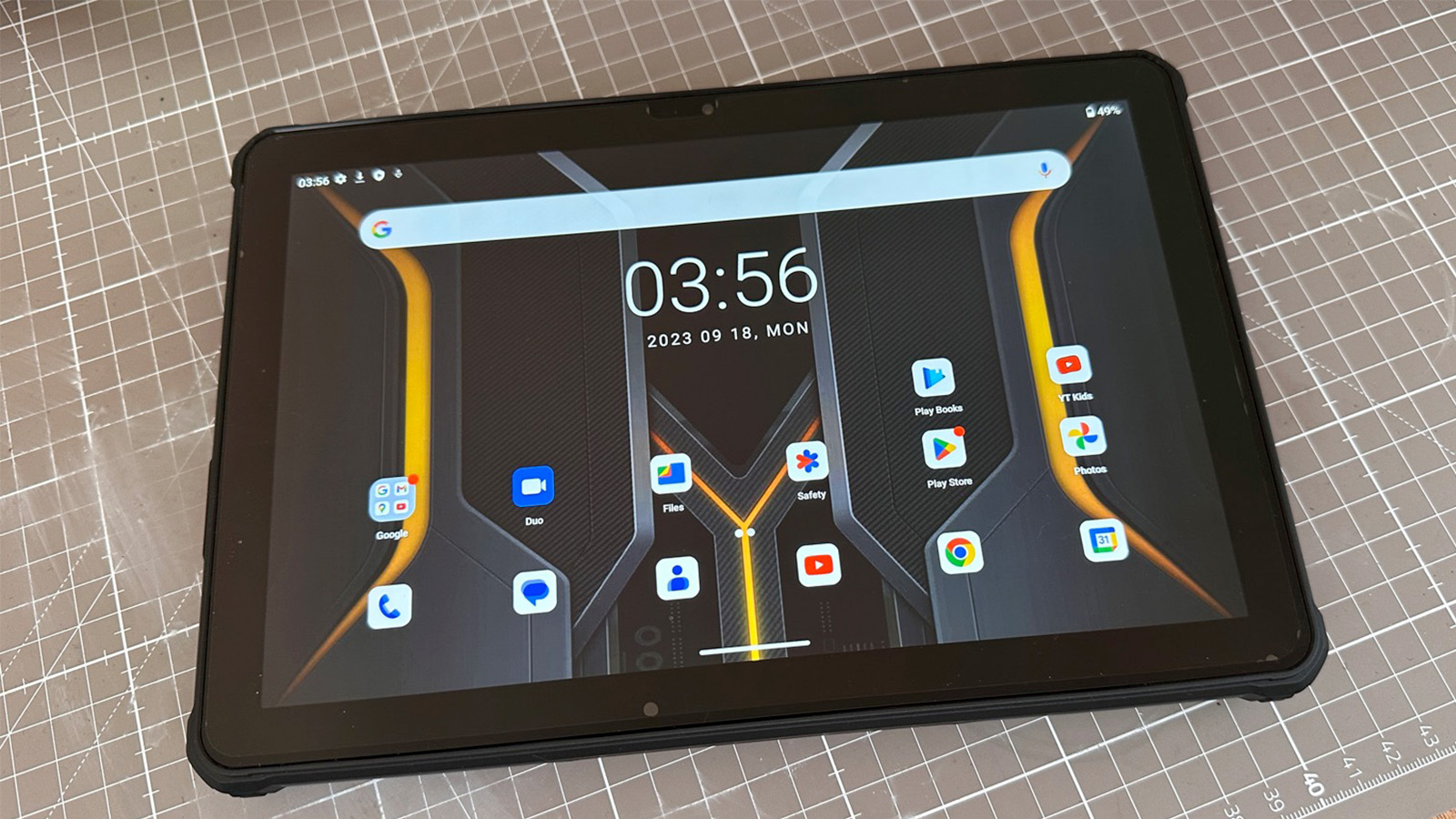 The Oukitel RT7 5G Android rugged tablet 13. Adrian Kingsley-Hughes/ZDNET



I really like my iPad Pro. But the idea of taking her outside doesn't reassure me. I'm afraid it will take on water or break. But having a tablet capable of facing rigorous outdoor conditions can be useful.

What is needed in these cases is a hardened tablet, but not just any hardened tablet. In order for it to really take the place of a laptop, the screen must be as large as possible.

Over the past few weeks, I have tested this Oukitel RT7 5G tablet running Android 13 and I was impressed by its durability and the practical functions.

Technical characteristics of the Oukitel RT7 5G


Processor : MediaTek Dimensity 720 MT6853 octa-core


Screen : 10.1 inches FHD+ with a resolution of 1200 x 1920, 14.4:9 ratio, 60Hz refresh rate.


GPU : Arm Mail-G57 MC3.


APN : main of 48 megapixels + frontal of 32 megapixels + night vision of 20 megapixels.


RAM : 24 GB LPDDR4.


ROM : 256 GB (expandable to 1 TB with a microSD card).


Battery : 32,000 mAh.


Resistance : IP68, IP69K (dust and high pressure water spray) and MIL-STD-810H.


Accessories provided : aluminum alloy holder, wrist strap, shoulder strap and screwdriver to fix these accessories.


Dimensions : 249.1 x 167.8 x 19.8 mm.


Weight : 1 212 grams

The first thing that struck me was the size of the tablet. She's huge!

With almost two centimeters thick and about 1.2 kg, it is a massive tablet, much more than an ordinary 10.1-inch tablet. The robust frame, reinforced corners and sealing add to the weight and bulk.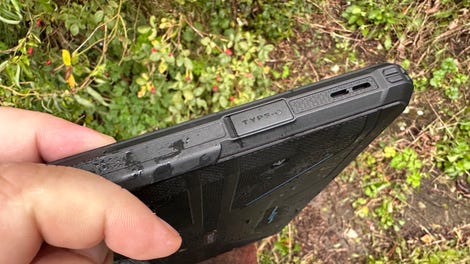 The Oukitel RT7 5G is indeed a thick tablet. Adrian Kingsley-Hughes/ZDNET



Then there is the battery. The 32,000 mAh battery gives this tablet an astonishing 180 days of standby time or 35 hours of video playback…

The battery gives the impression of being able to supply electricity forever.

This allows the tablet to have a hidden function: reverse charging. Thus, it can serve as a power bank, a large capacity battery, allowing you to recharge an iPhone 15 nine times. I think this function can be useful for photographers and drone operators.
I even used this tablet to recharge a drone after using up my external battery during a shoot, and it allowed me to get the last photo I needed.
The Oukitel RT7 5G has been designed for intensive use and has been designed to meet the IP68, IP69K and MIL-STD-810H standards. This tablet can withstand drops of one meter, immersion in 1.5 meters of water for 30 minutes and temperature variations ranging from freezing cold to strong heat.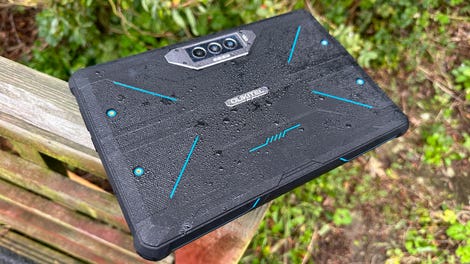 The Oukitel RT7 5G in the rain. Adrian Kingsley-Hughes/ZDNET



I tested the durability of this tablet – by dropping it, leaving it in the rain overnight, burying it in the mud: it lives up to its specifications.

It's a hard tablet to knock down.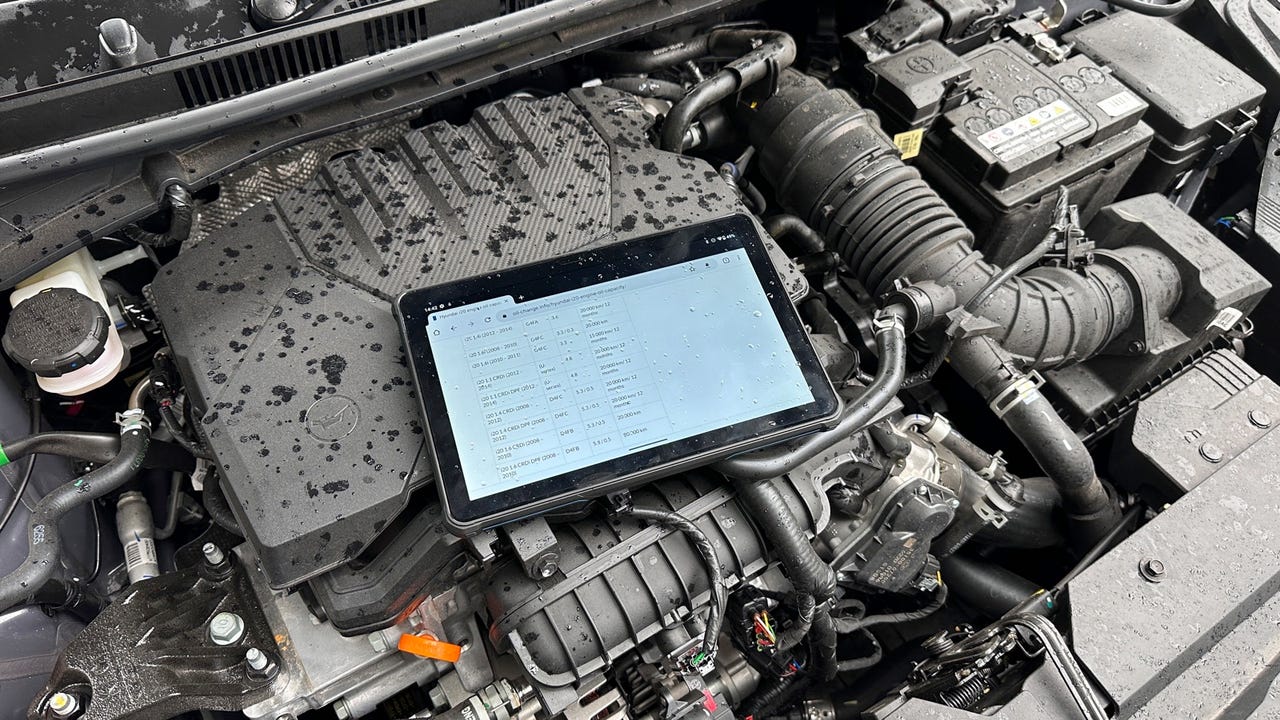 The Oukitel RT7 5G is perfect for the industrial environment. Adrian Kingsley-Hughes/ZDNET



As for the RT7's cameras, I consider them perfectly adapted to the task.
They can capture photos that are perfect for social media or to illustrate reports. They are far from equaling the recent high-end smartphones from Samsung or Apple, but they are more than enough for the use that we will make of this tablet. I particularly appreciate the macro camera, which allows you to get as close as possible to the action.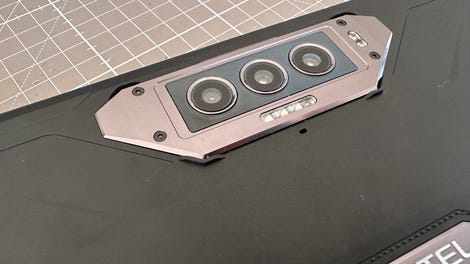 All the objectives of the Oukitel RT7 5G. Adrian Kingsley-Hughes/ZDNET


The RT7 is also equipped with an alloy handle, a wrist strap and a shoulder strap that make it possible to expand the carrying possibilities and reduce the risk of the tablet falling when used outdoors.

For €454, this is one of the most robust tablets you can buy. Yes, she is tall. Yes, it is nowhere near as elegant as an iPad, but it has a monstrous battery and is designed to survive the most difficult conditions.

I love it!

Source: "ZDNet.com "