United States: the decline of the TV empire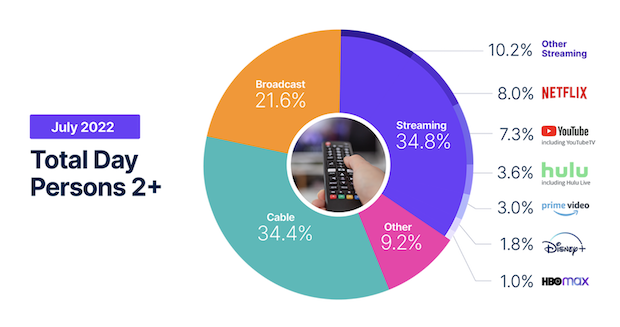 For the first time since the establishment of "The Gauge" two years ago in June 2021, the use of linear television fell below the 50% mark in the United States: 20% for broadcast television and 29.6% for cable, a total of 49.6% of audience. Compared to July 2022 (56%), the American TV audience lost 6.4 points. A collapse that will inevitably modify the strategy of the giants of the sector, starting with Disney who led the way by evoking a possible questioning of the group's strategy concerning linear television. Indeed, Bob Iger declared himself "very pessimistic" about his vision of television and its linear networks and affirmed: "It may be that they are not essential to Disney."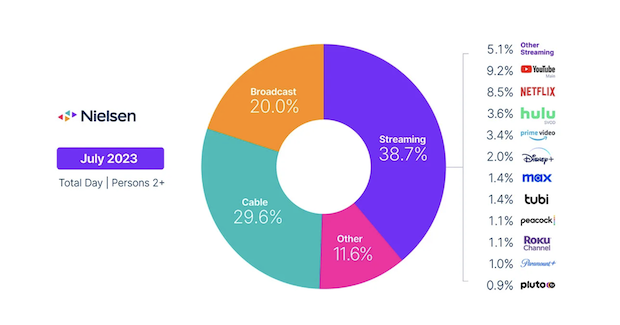 Principle of communicating vessels, it is streaming and other uses that benefit from it, reaching respectively their record level (38.7% of the total use of television for streaming and 11.6% for other uses such as video games). In one year, streaming gained 3.9 points and other uses 2.4 points. Streaming is showing its third consecutive monthly increase, proof of its dynamism.
During the first monthly rankings of 2021, broadcast and cable accounted for 63.6% of television use in the United States, compared to 49.6% today. Streaming, meanwhile, went from a share of about 26% in June 2021 to 38.7% in July, a jump of 48%.
Among the factors that influence the consumption of television and streaming over the summer period, the beginning of the school holidays which boosts SVOD and video games and the end of sports broadcasts which penalize television. The start of the new school year should rebalance the relationship between TV and streaming, but the power of streaming services continues to shake up classic channels and the launch of offers with advertising will not help anything.