72 French series uploaded by American streamers in 2022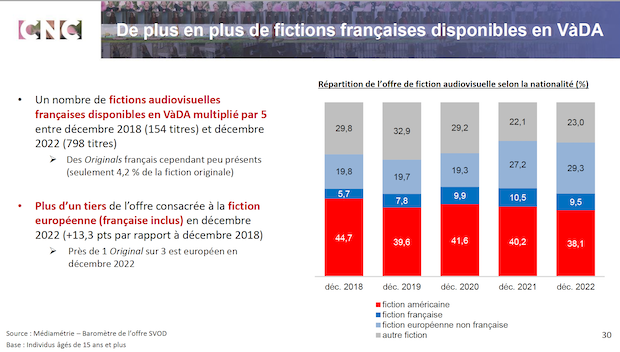 A study that is timely since the weight of streaming platforms has been steadily increasing for a few years, mainly thanks to fiction programs, mainly foreign. Indeed, with SVOD, unlike linear television, the offer of fiction is predominantly American, and, consequently, so is consumption. But American streamers must now comply with a certain number of investment obligations in production which has a direct impact on the production of French series.
Between 2018 and 2022, the weight of the offer of French fictions in SVOD services has almost doubled, from 5.7% to 9.5%, after a peak at 10.5% in 2021. Abroad, France is the 3rd most represented European country on SVOD platforms behind the United Kingdom and Spain and 9th overall.
The hierarchy of investments in French fiction is mainly in the hands of linear channels, France Télévisions and TF1 in the lead. But the CNC study highlights the increase in the financing of projects intended for foreign SVOD platforms for an amount of 44 million euros in 2022 as part of the platform support fund. As a reminder, the CNC has temporarily set up a selective assistance system to support the production of audiovisual works intended exclusively for making available on an on-demand audiovisual media service whose publisher is established abroad and subject to the obligations provided for by the decree of June 21, 2021 relating to on-demand audiovisual media services. As of January 1, 2023, French and European producers established in France can apply for aid, whether selective or automatic, for the preparation and production of their projects pre-financed by a platform or a foreign chain subject to investment obligations, via CNC devices.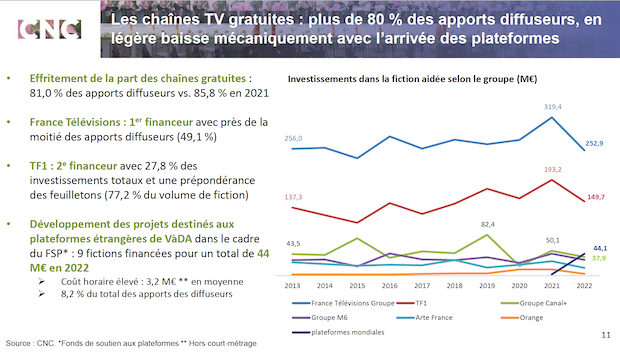 Proof of the dynamics provided by foreign platforms for French series, their increasing number in the offer of the three main services. Thus Netflix has offered 25 French series including 4 original series in 2022, Disney + also 25 series including 4 original series and Prime Video 22 series and only one original series. That is a total of 72 series made available by these streaming services. A strategy constrained by the obligations of the SMAD decree, but a real opportunity for French talents and producers who can thus expand their playing field compared to traditional channels and benefit from an international opening almost impossible with a local broadcaster, with rare exceptions.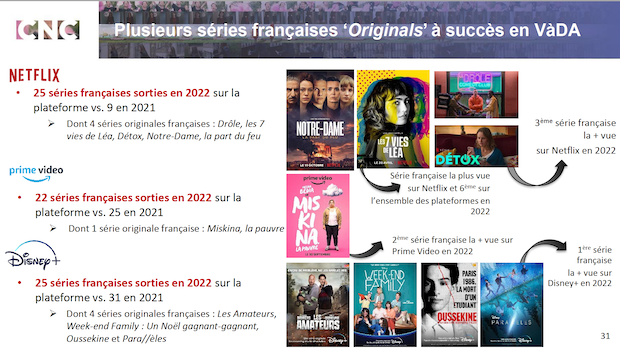 For some market players, the rise of American streamers and their desire to blend into the French financing system is a real opportunity to diversify their revenues and especially to benefit from an international showcase. But as any medal has its flip side, the future growing dependence on platforms could weaken some production structures.