Microsoft still believes in virtual reality for Teams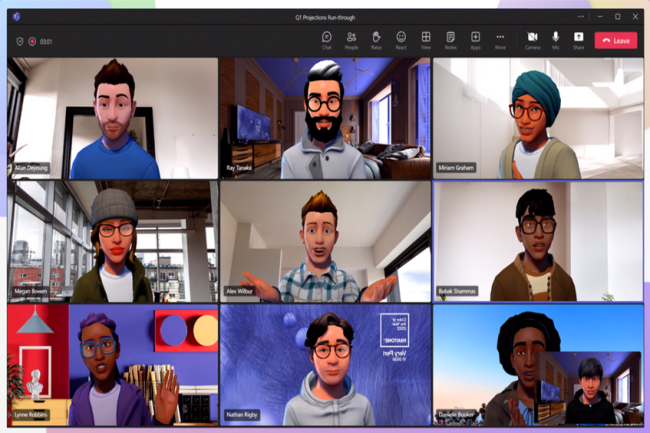 The question of the "metaverse" is not buried at Microsoft as the recent Build announcements show. The Teams avatars and the mesh update orient mixed reality towards the workstation.
In the shadow of the announcements around generative AI, the metaverse was not forgotten by Microsoft at its annual Build conference. The publisher focused on two products: avatars for Teams and the mixed reality tool Mesh. The latter was unveiled in 2021 and consists of a series of solutions, including a development platform, a collaboration application and avatars for Teams. The sustainability of its offers had been questioned after reports of layoffs in the teams working on "an industrial metaverse" and Hololens. Last March, the Redmond firm also closed AltspaceVR, the social VR platform acquired in 2017.
However, during this Build conference, Microsoft took several steps to realize its vision of the metaverse around immersive meetings. Now avatars are generally available in Teams for Microsoft 365 Business and Enterprise customers via the Teams desktop client for macOS and Windows. "Avatars for Teams offer an alternative to the current binary option of presence or no video in Teams meetings," Lori Craw, director of marketing for Modern Work at Microsoft, said Tuesday in a blog post. "The customizable avatars and reactions allow you to take a well-deserved camera break while showing your colleagues that you are present, which encourages engagement, collaboration and fun," she added.
Avatars with limited features
"Despite the recent layoffs, the announcements regarding Mesh and avatars for Teams show that Microsoft is still striving to offer more engaging and immersive experiences to Microsoft 365 customers," said Christopher Trueman, senior analyst at Gartner for digital applications in the workplace. "Nevertheless, users are likely to be disappointed by the new feature at the time of launch," he added. "The problem is not related to the avatars themselves, which are of good quality and offer many customization options, but rather to the way they are implemented and the impact they can have on the experience that we can have in Teams by using them," added the analyst. Unlike avatars that follow the movements via the user's webcam, such as those available on competing video platforms such as Zoom, the movements of Teams avatars are generated from predefined animations, which limits the expressions of the avatar to what the Microsoft designers have imagined," explained Christopher Trueman. Another problem is related to the fact that, while animations like the wave, the thumbs up and the heart animation are linked to the existing emoji "reactions" in Teams, others are accessible via a separate avatar menu. "Therefore, some animations are not accessible when other features of Teams – the list of participants, the lobby functionality, the meeting chat and screen sharing – are used," said the consultant. "The result is a disjointed experience that risks distracting users more than it engages them," he added.
"At Microsoft's expense, lip synchronization is supported and the mouth of an avatar animates when the user speaks," acknowledges the Gartner analyst. "But the overall experience is more limited and more tedious than it could be, so it is better to consider the initial launch of avatars for Microsoft Teams as a minimally viable product," he added. Mr Trueman also pointed to the wider issue of companies' acceptance of avatars at work. Most companies have not yet taken up the challenges posed by avatars and immersive technologies. "Do employees' avatars have to match their real physical appearance, or could certain animations/gestures be considered inappropriate for certain professional activities (for example, dance animations)," he wonders. "Some companies might just disable avatars for Teams," he added.
An update for Mesh
Microsoft has also rolled out an update for immersive Mesh experiences within Teams. This feature, currently in a private version, offers a virtual 3D space where colleagues can meet and which can be accessed via a PC or a virtual reality headset. In these "immersive spaces," Teams users can get up close to the participants they want to talk to, with spatial audio allowing users to "feel the sound like they would in a real situation," Lori Craw said. In addition, Microsoft is making the Mesh development platform available as a private preview so that developers can create personalized immersive spaces adapted to different workplace collaboration scenarios, such as social meetings, employee onboarding or general meetings.
Microsoft has rolled out an update for immersive Mesh experiences in Teams. (Credit: Microsoft)
Mesh is the underlying platform that feeds these experiences and those to come in the ecosystem of the American firm. "This platform-centric approach is differentiating for Microsoft, as many vendors in the emerging metaver market have instead opted to build large, but flexible applications in order to offer a complete set of metaver capabilities in a single, centralized system," said Christopher Trueman. "By designing Mesh as a platform, Microsoft can provide a set of common and basic capabilities, which can then be customized and integrated into various applications and services," he added. "The avatars for Microsoft Teams are the first initiative of this type, but Microsoft has already mentioned, in blog posts and previous announcements, the integration into Whiteboard," he recalled. A wider range of Microsoft applications and services could easily "take advantage of Mesh's capabilities in the future," he added.