In Laval, Estaca and Arts et Métiers are launching a double master's degree on immersive technologies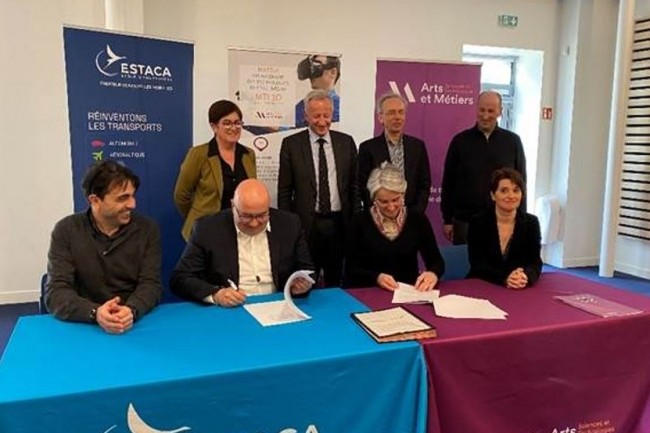 In Mayenne (Pays de la Loire), two engineering courses, Estaca and the Higher National School of Arts and Crafts offer from the end of 2023 a double master's degree in management of 3D interactive technologies.
While Virtual Laval is coming to an end soon (from April 12 to 14), the flagship event of virtual and augmented reality, Estaca and Arts and Crafts, both located in Mayenne in the Pays de Loire, are offering a double diploma dedicated to immersive technologies. Purpose of this joint initiative? Train skills in a sector where the fields of application are very diverse. Design of simulation systems, implementation of human-machine interfaces, development of immersive and collaborative applications, are currently sought-after expertise in this market. To meet these needs, from the start of the 2023 academic year, Estaca 5th year students will be able to learn how to develop solutions and services of this type by integrating the Master's degree "management of 3D interactive technologies" (MTI3D) in partnership with Arts and Crafts. This course delivers, in addition to the engineering degree from Estaca, a title in Science and Technology, mention Industrial Engineering.
Oriented towards research and industry, this course integrates more than 400 hours of training to contribute to the development of students' skills and ends with a six-month internship in a public or private research laboratory, or in a company. In coordination, the two schools have set up this program so that engineering students can both continue their last year at Estaca before integrating their specialization. Arts et Métiers offers to welcome up to 10 students each year at the Laval Institute. Admissions will be subject to individual interviews after a pre-selection on file. This Master's degree also gives students the opportunity to work on a long-term project, either R & D oriented in connection with a real problem of an industrial partner, or on a research-oriented project with the objective of publishing the results of their work in an international conference.
An accessible cycle in continuing education
Also accessible under a professional development contract and through continuing education, it can thus give rise to doctoral studies to aim for an academic career, or offer new opportunities to graduates: R & amp; D manager, virtual reality or augmented reality engineer, IT project manager, consultant or business creator. "The signing of this partnership is part of our desire to offer students training in line with the skills needs of manufacturers to transform the mobility of tomorrow. Through this agreement, we want to consolidate the knowledge and skills of our students in the field of immersive technologies and human / machine interfaces," stressed Jean-Michel Durepaire, Director General of Estaca in a statement.
Emphasizing the importance of project pedagogy, Simon Richir, director of the Arts and Crafts Institute of Laval, and Olivier Christmann, head of the MTI3D Master's degree, specified. "The students develop 9 projects over the academic year. These projects, most often developed in teams, involve the implementation of technical skills, and the development of soft skills for group work "At the end of this apprenticeship, this multidisciplinary approach gives them the means to design immersive products and services applied to areas such as mobility, they concluded.