SkyReal raises €2.5M for its virtual reality solution for the industry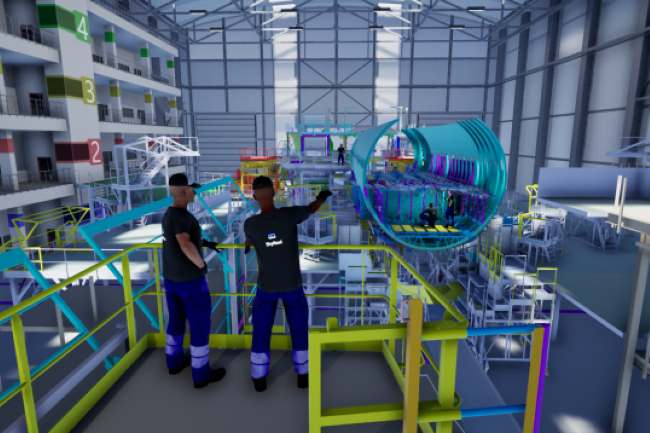 The Parisian start-up SkyReal has just completed a round of 2.5 million euros. Specializing in the use of 3D and VR technologies for industrial design, it is aimed at the aeronautics, space, mobility or energy sectors and focuses on complex projects.
The issue of virtual and augmented reality has been at the heart of discussions for some time in the industrial sector. The start-up SkyReal, which offers various simulation models, is working to democratize the use of such technologies for industrial design and production. Its solution, which it presents as an industrial metavers, is based on real-time 3D technologies and MBSE (model based systems engineering) system engineering approaches. Engineers immerse themselves in this virtual world to develop, collaborate and produce. Today, to strengthen its growth, it has just completed a round of 2.5 million euros with historical investors and is, at the same time, bringing Sopra Steria back to the capital.
The start-up, created in 2017 by Hugo Falgarone, current CEO, has strong ambitions: to triple its workforce over the coming year (several positions are currently being filled on its site), accelerate its international development and diversify the application sectors. Based on the Unreal Engine software – proprietary video game engine developed by Epic Games – SkyReal deploys and integrates 3D and VR tools throughout the development cycle of industrial projects and products, offering a reduction in time, costs and risks associated with them. The developed solution is also built in a modular way and offers the possibility of adapting its functionalities to business needs thanks to a system of plugins.
Use cases with large groups
The solution has already been adopted by major names in the aeronautics and space sectors (ArianeGroup, Airbus, ATR, Safran, Airbus Atlantic), mobility and energy (Baker Hughes, TechnicAtome), the maritime and naval sector (Naval Group, ÅKP), or engineering schools (ISAE-Supaéro, INP Grenoble, ENSAM). With this financing, the start-up thus wants to diversify into these sectors of activity already invested. Note that this round of the table in Series A comes as SkyReal has reached equilibrium and 1 million sales in 2022 (+ 260% compared to 2021), of which 60% in software subscription.
SkyReal has recently released version 1.16 of its software. (Credit: SkyReal)
In July 2022, on the occasion of our special industry webconference, we received Hugo Falgarone on our set. He had taken advantage of his intervention to give us an example of the use of his solution. "One of our historical customers, Ariane Group, has implemented virtual reality in particular for its Ariane 6 program in order to meet the important cost and time deadlines. It is the program teams that use virtual reality to manage the project and make decisions".