iPhone: Don't wait for the smartphone to automatically install this update, do it now!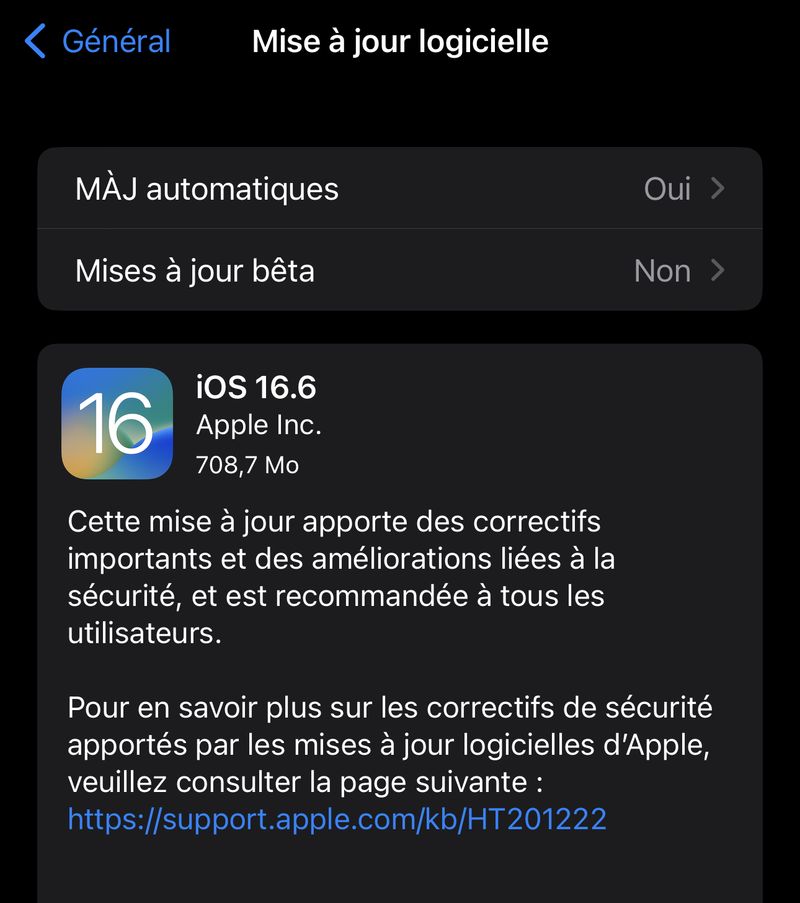 iOS 16.6 update.

Screenshot ZDNET France

Every day there is a new iOS update for iPhones. The latest, iOS 16.6, fixes 25 security vulnerabilities.

The full list of vulnerabilities fixed by iOS 16.6 is detailed here.

Instagram Facebook iPhone updates have been coming in succession in recent weeks, since the iOS 16.6 update arrives less than two weeks after the publication of iOS 16.5.1 (c), a Rapid Security Response Update, which itself was published a few days after the withdrawal of iOS 16.5.1 (a) because it crashed the Safari browser when used to visit websites such as Facebook, Instagram and Zoom.

Along with iOS 16.6 for the iPhone, iPadOS 16.6 for the iPad, iOS 15.7.8 and iPadOS 15.7.8 for older devices that cannot run iOS 16, tvOS, watchOS, as well as a multitude of updates for various versions of macOS.

Even if automatic iOS updates are enabled, it may take a few days to install the update. I advise you to take the process into your own hands and manually install iOS 16.6. To do this, click on Settings then General > Software update. Then click on Download and install to launch the update and ensure the security of your iPhone.

Source: "ZDNet.com "