Laval is banking on the virtual reality ecosystem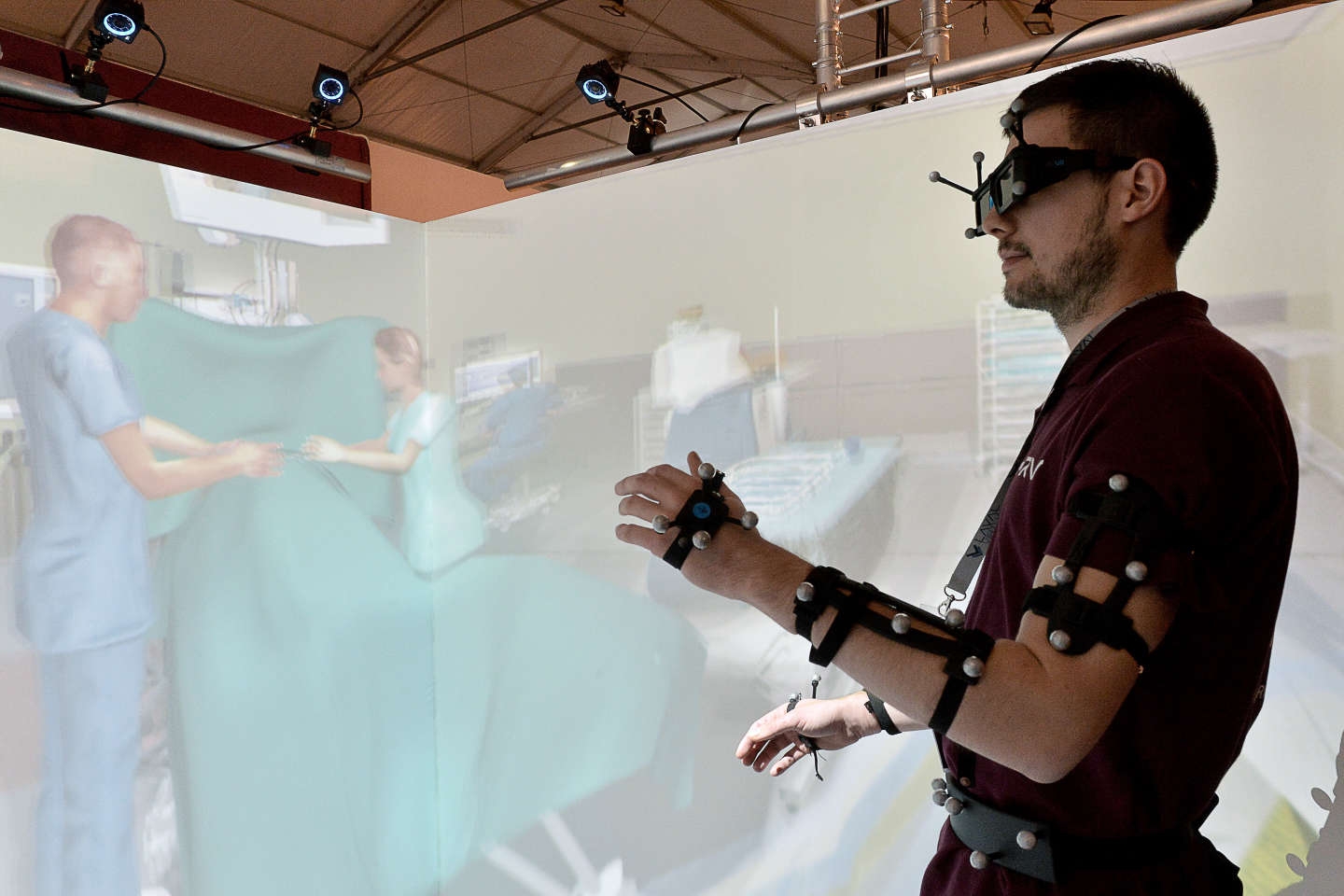 The "VirTeaSy Surgery" simulator during the Laval Virtual Show, on March 24, 2016, in Laval. JEAN-FRANCOIS MONIER / AFP
For Laurent Chrétien, the director of Laval Virtual, the year is coming to an end. He who has become accustomed to setting his calendar on the annual editions of this professional event, dedicated to virtual and augmented reality (integrating virtual elements into the real field of vision), sees the end of the tunnel with the opening, Wednesday, of the 19th edition of the event (March 22-26). Unless… 2017 will be marked by another major event: the opening in September of the Laval Virtual Center, which aims to "guarantee a permanent exposure to action [de la ville] "to become a world capital of this booming technology.
Since the arrival of consumer virtual reality headsets (Oculus Rift, HTC Vive or HoloLens), simulating a dental procedure, gathering around the same "table" interlocutors scattered in various places or moving a virtual object in the real field of vision has never been easier. And the economic prospects for this market are soaring: 108 billion dollars (101 billion euros) worldwide by 2021, according to the company Digi-Capital.
Read also Virtual Reality: the Oculus Rift arrives in France
A form of validation of the "crazy bet" – says Mr. Chrétien – that was that of the former mayor of Laval François d'Aubert, at the beginning of the third millennium. Wishing to give visibility to the city in the field of innovation, he bet on virtual reality, then reserved for a small community of industrial engineers. The Laval Virtual Salon was created in 1999. Since then, once a year, this international meeting has been intended to be the showcase of the efforts undertaken by the city to create a local ecosystem of virtual reality with, in particular, the installation of specialized training courses offered by the National School of Arts and Crafts (Ensam) or by the Higher School of computer science-electronics-automatic.
Mr. Chrétien joined the adventure "a little by chance". The former student of Polytechnique and Arts and Crafts already has a rich professional background, in large companies (Dumez International, Unibail), as in entrepreneurship.
Read also Virtual reality wants to make a place for itself in the corporate world
Press the accelerator
For his second business creation (Memoree, an online souvenir publisher), he settled in Mayenne, the project is nevertheless struggling to take off. He ends up throwing in the towel, but immediately bounces back by landing the position of project manager proposed by the town hall for the construction of what was still called at the time the City of Virtual reality. When Matthieu Lépine, the director of the Laval Virtual Salon resigns, Mr. Chrétien will plead his case with the elected officials to ensure the succession and wins the bet. While the event was "vegetating a little", in his own words, Mr. Chrétien decided to press the accelerator.
You have 44.08% of this article left to read. The suite is reserved for subscribers.