Virtual reality still lacks flesh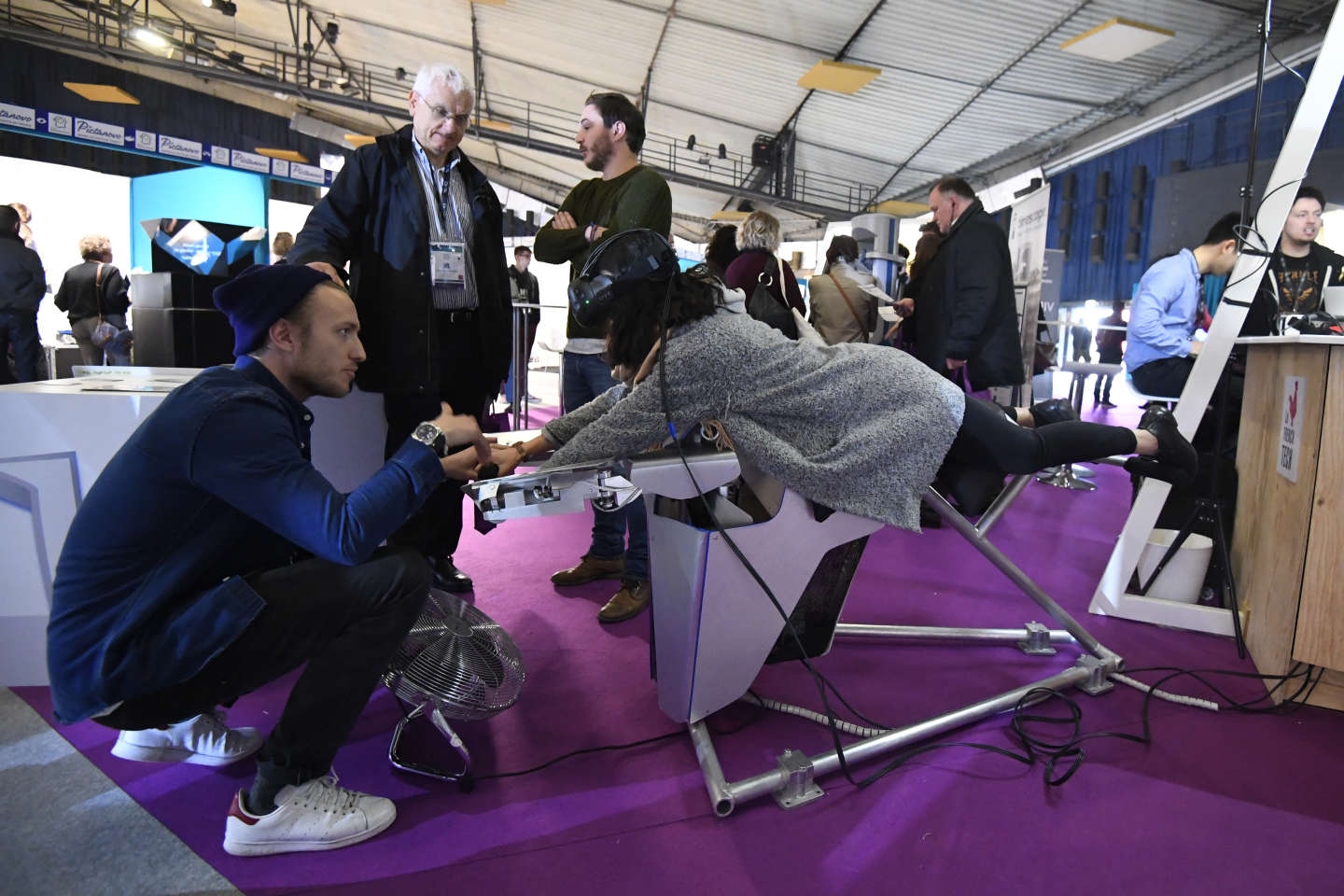 The French company Hypersuit has developed a virtual reality mask. Lying on a bench equipped with articulated arms, it gives the feeling of flying. At Laval Virtual, on March 22nd. DAMIEN MEYER / AFP
In recent months, it has become a darling of high-tech salons. Laval Virtual, the grand-messe of virtual reality in Europe (until March 26th), is no exception. In front of the stand of the French company Hypersuit, Chinese professional visitors show their enthusiasm and make contacts with the co-founders for a possible future collaboration.
The reason for this success – to be confirmed, since the product, still in the prototype state, will not enter production until the end of the year – is due to its ability to integrate physical sensations into virtual reality: the user, equipped with a virtual reality mask, is lying on a bench equipped with articulated arms, in order to give him the sensation of flying by himself. The project was also born from this observation: "We were big fans of virtual reality [VR], but what was missing was an interaction with the body, " says Tom Sicard, one of the co-founders of the company.
The enthusiasm aroused by Hypersuit translates into a hollow the distance that still separates VR from the illusion of reality. While today the proposed experiences are primarily visual, touch remains the poor relative of these devices. In the field of video games, the one that is nevertheless the most successful with the general public, the consideration of bodily sensations is generally reduced to the vibrations produced by remote controls. At best, shooting game enthusiasts can get fake weapons that reproduce the feeling of recoil.
"Mature technology"
Read also Article reserved for our subscribers Laval bets on the virtual reality ecosystem
Other heavier devices accompany the players, in particular seats that reproduce the movements performed in the virtual universe. In addition to adding to the realism of the experience, these have the advantage of partially reducing the nausea effect generated by VR. But, given the cost of such equipment, it is not time for their democratization – if not in game rooms or amusement parks.
The issue of costs also remains a drag in the field of professional applications. The company HRV (H for "haptics", the science of touch), based in Laval, sells dental surgery simulators at a price of 50,000 euros per unit. The solution, intended primarily for students, allows them to reproduce interventions thanks to an articulated arm connected to a screen where the tooth is represented in 3D. By a force feedback system, the student feels in detail not only the shape of the tooth, but also the variations in its density when he pierces it.
You have 41.6% of this article left to read. The suite is reserved for subscribers.