Operation Wolf Returns: First Mission VR will revisit the rail shooter at the Taito on June 23 – News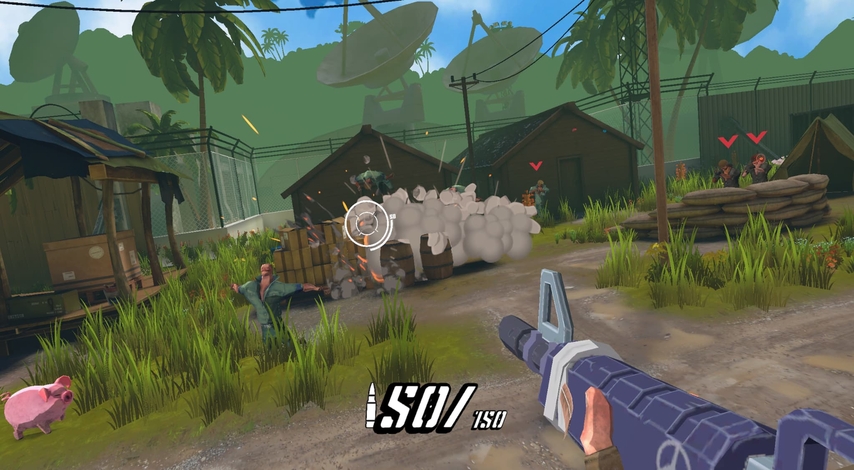 Carved in the marble of light gun games, their sweat-soaked plastic triggers and their procession of large-caliber harvestable minions, Operation Wolf Returns: First Mission VR is an old-fashioned rail shooter composed of six levels full of criminals. We will face the vile forces of General Viper (probably a cousin of the Cobra Commander), margoulins who do nothing but sell drugs and plot to overthrow the established world order with their super-secret superweapon. By the way, we will find some hostages to free.
"It's okay, I killed the drugs!"
Beyond the main campaign, the developers of Virtuallyz Gaming will also include a Survival mode with explicit ins and outs. As long as we shoot first, we don't die, and we're free to keep scoring. We will be able to unleash freely the arsenal of Operation Wolf Returns: First Mission : uzi, shotgun, grenade launcher, helicopter turret… everything necessary to raze entire camps laughing in the face of the Geneva Convention.
If Operation Wolf Returns: First Mission first released in VR version, a flat version will be released on all non-mobile platforms in the fall of 2023. Lucky ones on PlayStation and Switch will be able to acquire the Day One Edition, a physical version with specific content that has not yet been specified. PC and Xbox, they will have to be content with the dematerialized.
Microids did not wish to provide us with gameplay videos, but a few images below show the gently cartoonish artistic direction. The action seems readable, that's the main thing, it remains to verify that it is fluid and runs like a charm.