The UK SVOD market is stabilizing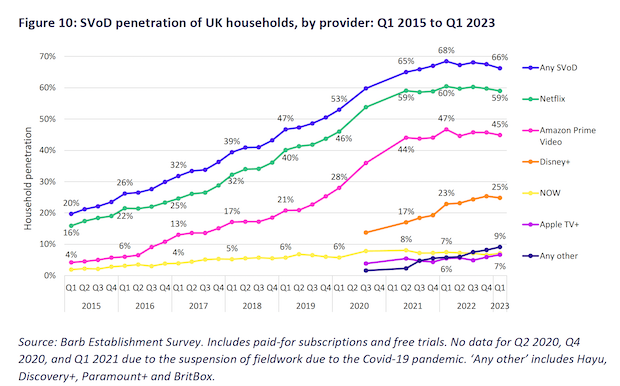 19 million British households were using SVOD at the end of 2022: after the accelerated adoption of SVOD during the pandemic, when the number of British households subscribing to at least one service reached 68% in the first quarter of 2022, this figure has since decreased slightly and stabilized at about two thirds of households (66%, or 19 million) in the first quarter of 2023.
Netflix remains the leader of the British market with the huge figure of 59% of households who subscribe to the offer with the red logo. Disney+ (25%) recruited 746,000 additional households between the first and fourth quarters of 2022, bringing its subscriber base to 7.1 million households, but lost ground in the first quarter of 2023. The Apple TV+ reversed this trend and increased its volume of subscribed households by two percentage points compared to the same quarter of 2022. Since Apple TV+ subscriptions are provided as a free trial when purchasing new Apple devices, 18% of total Apple TV+ subscriptions were free in the first quarter of 2023 (Q1 2022: 14%), compared to only 2% of Netflix subscriptions and 3% of Amazon Prime Video subscriptions.  The average number of SVOD subscriptions per UK household taking at least one SVOD service remained stable between Q1 2022 and Q1 2023, at just over two per household. The gap between Netflix and its pursuers is considerable and seems impossible to bridge.
Netflix remained the most popular service among children, with its quarterly reach increasing by four percentage points year-over-year to 66%. YouTube (including YouTube Kids) was always the second most popular online video service among this audience, with 45% of 3-12 year olds reporting using the service. However, the proportion of children reporting using this service decreased by 14 percentage points. In terms of usage levels, more than half said they watch YouTube more than other platforms, rising from 47% to 51% year on year. Amazon Prime Video maintained its reach at 45%, but Amazon Kids+, a standalone service costing 6.99 pounds per month, or 3.99 pounds for existing Prime customers, achieved the largest increase in reach of any service during the year, from 0.2% in Q1 2022 to 8.5% in Q1 2023, after rebranding in the UK in April 2021 and rolling out to other platforms since then. Disney+ continued to gain traction, and its reach increased year-over-year by three percentage points, from 37% to 40%.