Will Samsung impose foldable terminals in companies?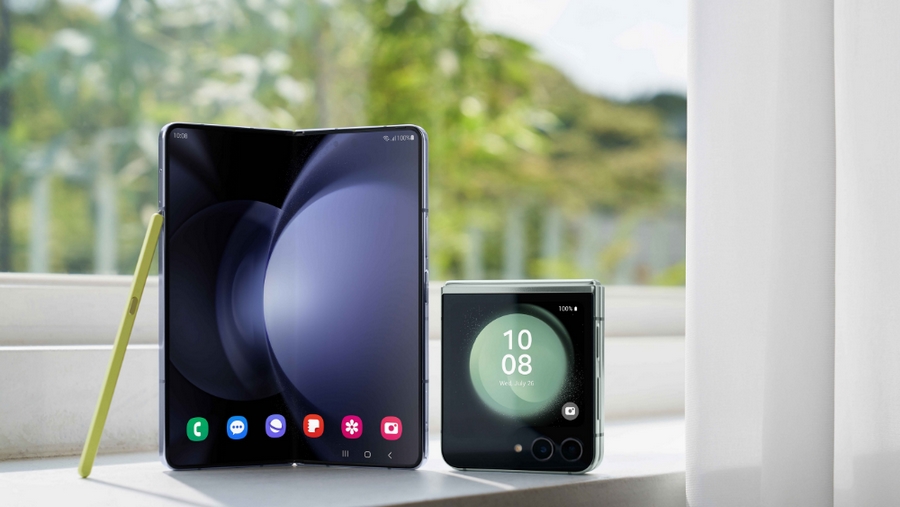 In a smartphone market in sharp decline, the foldable models segment is the only one to pull out of the game. Taking advantage of the "wow effect", these terminals that unfold to offer an XXL screen (fold format) or fold over themselves like the old clamshell models (flip format) stand out from the crowd.
If these advantages have been able to seduce consumers jaded by interchangeable smartphones, what about professionals? Samsung will find out soon. The Korean manufacturer has just announced the launch in France of its new foldable smartphones Galaxy Z Fold5 and Galaxy Z Flip5 specifically targeting the corporate world.
Both smartphone, tablet and laptop

Samsung has arguments to make to seduce the BtoB world. With the Galaxy Z Fold5, the manufacturer is playing the productivity card. Three-in-one, the terminal is a smartphone when it is closed, a tablet when opened. Connected to a monitor, it can act as a backup computer thanks to the Samsung DeX screen offset mode.
Without going so far, the enlarged 7.6-inch screen allows you to work on office files using "up to three applications simultaneously". The S Pen Fold Edition stylus also allows you to take notes, annotate documents or sketch drawings and graphs. Samsung highlights the handwriting recognition function that automatically converts handwritten notes into editable digital text.
This all-in-one approach is able to facilitate the life of nomadic professionals who no longer have to carry a tablet or a laptop in addition to their smartphone. Companies will find a financial advantage in reducing their mobile fleet by equipping their employees with a single piece of equipment. The overall cost of ownership per employee is also expected to decrease with fewer terminals to manage and maintain. However, this calculation must be compared with the price of the device (almost 1,900 euros).
Reduce TCO and carbon footprint

Another asset, the company reduces its carbon footprint by rationalizing the number of equipment. Samsung indicates using with these new foldable models more recycled materials than previous generations. Their durability would also be optimized thanks to better impact resistance, in particular with Armor aluminum edges.
With its compact size, the Galaxy Z Flip5 cannot claim the all-in-one approach. Much wider than the previous version (3.4 inches against 1.9), its screen, on the other hand, allows direct access to various features. Without opening the smartphone, it is possible to make calls, add an event to your calendar or view notifications.
Finally, Samsung values its approach to security, a key point in business. Natively integrated into its terminals, its Knox platform ensures the confidentiality of sensitive data or even their encryption (Knox Vault). The manufacturer provides a five-year "security guarantee" through terminal updates.