SVOD advertising expenses in France reach €71m in Q1 2023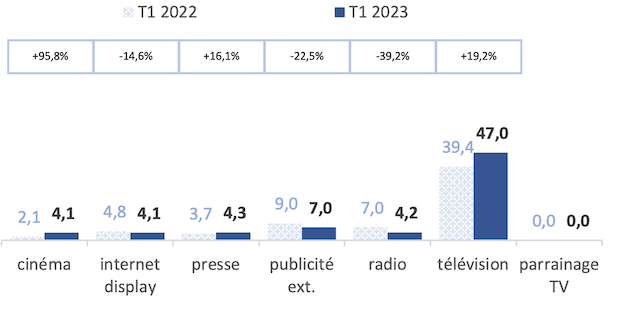 In the first quarter of 2023, SVOD platforms invested 71 million euros in media for the promotion of their content. This is an increase of 7.1% compared to the first quarter of 2022. At the same time, advertising investments for the cinema reached 106 million euros.
While SVOD and linear TV are regularly opposed, it is nevertheless on the TV media that the platforms invest the most to recruit users: indeed, of the 71 million euros spent, 47 million are on TV, or 66% of the total investments. TV expenses also increased by 19.2% compared to the first quarter of 2022.
The content promotion represents an investment of 35 million euros, an increase of 17.1% compared to the first quarter of 2022. This represents nearly 7,800 advertising spots (+30.5%). It is the series that capture the bulk of the budgets with 28 million euros, or 79% of the content budget.

The most active streamer on the advertising market is Amazon which represents 34% of the spots and 39% of the investments followed then by Disney+ with 22% of the investments and 27% of the spots. In the fourth quarter of 2022, the leading advertiser was also Amazon with 49% of investments ahead of Netflix which weighed 22% of investments for the period.
These investments are mainly invested on TF1 which captures 40% of total TV investments for an amount of 13.9 million euros.