USB-C on iPhone 15: Here's why it's a game changer much more than you think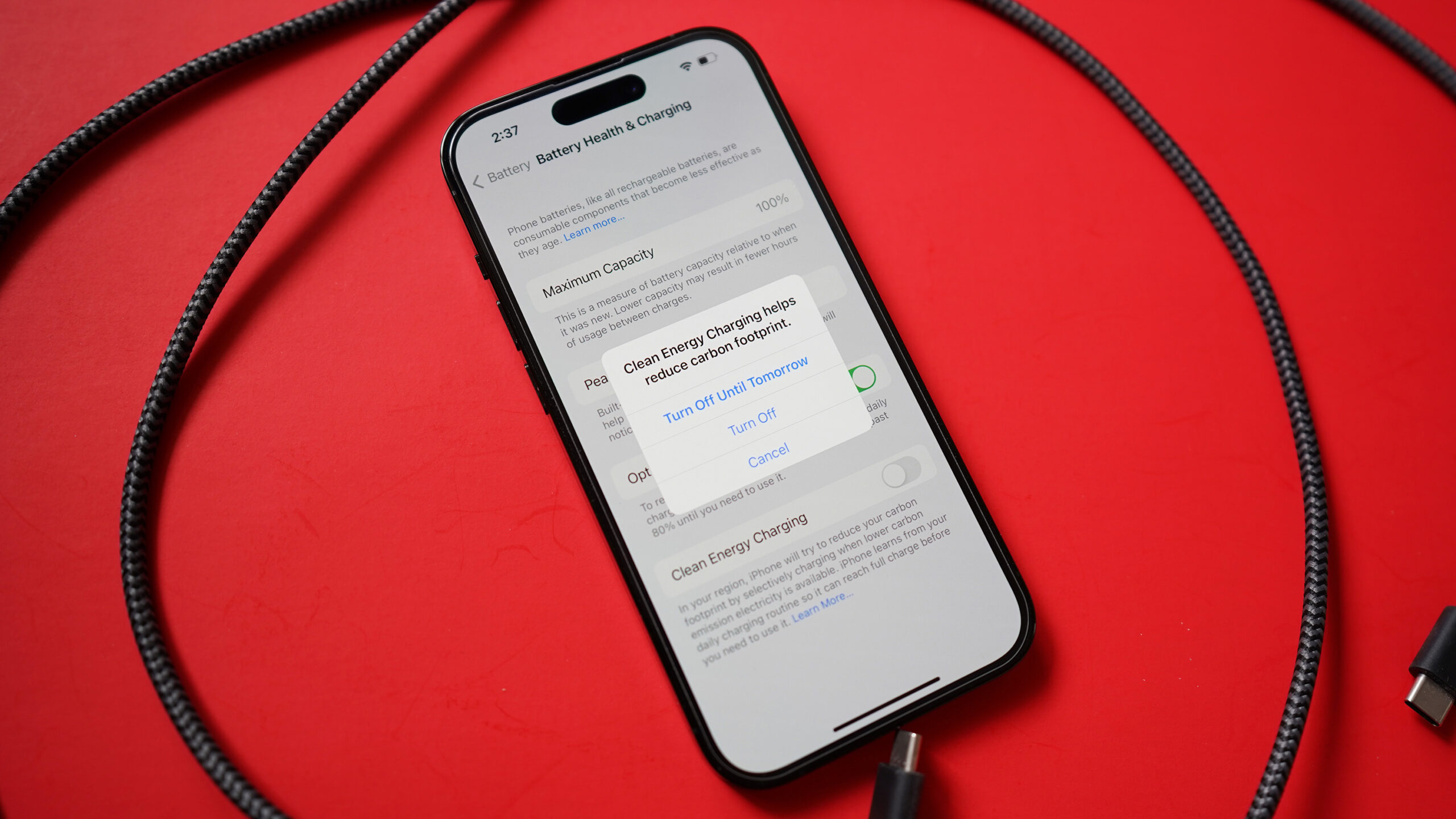 Last year, at the same time, I was not very enthusiastic about the idea of the release of the iPhone 14 Pro. Despite the impressive improvements brought by the 48 Mpx sensor of the main camera, which allows you to take the largest and most detailed photos ever taken on an iPhone, and the superb 4K videos at 24 or 30 frames per second in cinematic mode with optical zoom, I was left hungry.
Why? The data transfer speed of the Lightning USB 2.0 port has not been improved.

Lightning is super slow

As any content creation professional has experienced, transferring images and videos from your iPhone to your Mac using a Lightning cable is disconcertingly slow. First of all, the Photos application needs to synchronize and index the file lists and thumbnails, which takes some time. Next, you need to perform an import procedure.

If you need to transfer a hundred 75 MB ProRAW photos (7500 MB) from your iPhone 14 Pro, it may take you more than two minutes at about 60 megabytes per second (MB/s), assuming the transfer rates are optimal.

A five-minute 4K ProRes video clip at 6 GB per minute is about 30 GB. At this rate, it will take you 8 minutes to transfer this amount of data via a Lightning cable. If you use the Photo database or iMovie to store them, the indexing may take much longer, because it is not a simple copy from a mounted file system, and there will be a protocol overload.

Did I replace my iPhone 13 Pro Max from last year with the iPhone 14 Pro Max? Yes, because when you participate in the iPhone upgrade program, apart from the end-of-loan payments, you are actually exchanging one monthly payment for another. But I must say that this was not as big an improvement as I wanted because, as a food photographer, it did not improve my creative workflow or productivity at all; the data transfer was as slow as it had always been.

A USB-C iPhone has all the necessary potential


That was last year. As I write this, there are only two weeks left before the launch of the iPhone 15. If there are many rumors circulating about the components that should be improved (the camera should notably incorporate a new "periscope" design for a better optical zoom), very little is "confirmed" regarding what we can expect from this smartphone.

But we know with almost absolute certainty that the iPhone 15 will use USB-C. Why? Because the European Union has decreed that by the end of 2024, all smartphones and tablets will have to use the same USB-C connector.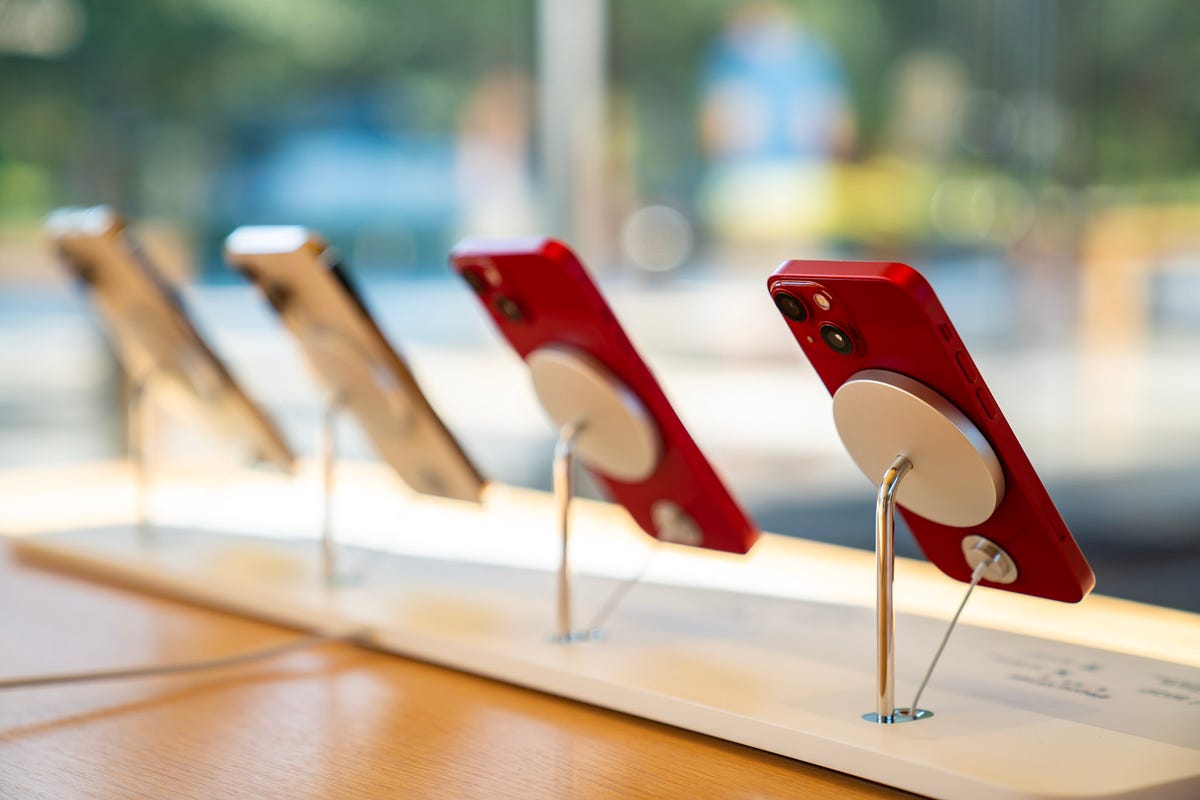 Jason Hiner/ZDNET

We do not yet have all the specifications to know if the iPhone 15 models have been upgraded to USB 3.2 or USB 4. As for Apple's current product portfolio, the latest USB-C iPads have USB 3.2 connectivity, while the current iPad Pro models have Thunderbolt 3/USB-4.
USB 3.2 Gen 2 is fast


USB 3.2 Gen 2 is fast. The theoretical upper limit is 10 Gbps, and USB 3.2 Gen 2×2, which no smartphone supports today – only laptops – is 20 Gbps.

According to a comparison of suppliers, the Samsung Galaxy S23 Ultra is equipped with USB 3.2 Gen 2, a reference for Android devices of the current generation.

And the USB 4/Thunderbolt 3, the same one used on the iPad Pro and the current Macs? 40Gbps or 5,000Mbps per second, an increase of more than 80 times compared to the transfer rates of USB 2.0.

USB 3.2 Gen 2 on an iPhone will be a welcome change, which will put it on par with the fastest Android devices. But if we get USB 4 on any iPhone 15 model, it will be a real upgrade and a leap forward compared to Android when it comes to device connectivity speeds.

Other advantages, but also challenges


The speed of data transfer will not be the only advantage of USB-C on the iPhone; it will also increase the power and, consequently, speed up the charging speeds.

Third-party Lightning cables are certified under Apple's MFi program for a maximum power of 18 W, which limits the charging speeds of USB PD. USB PD via a USB-C cable supports up to 240 W for desktops and other small devices (such as portable power stations).

I don't expect an iPhone to charge at 240 W, but it could reach 35 W, according to recent rumors. This is even faster than the current generation of iPad Pros, which charges at 20 W.

An iPhone with the same charging connector as other devices will allow consumers to use only one type of cable. But not all USB-C cables are built the same or support all transfer speeds and power limits.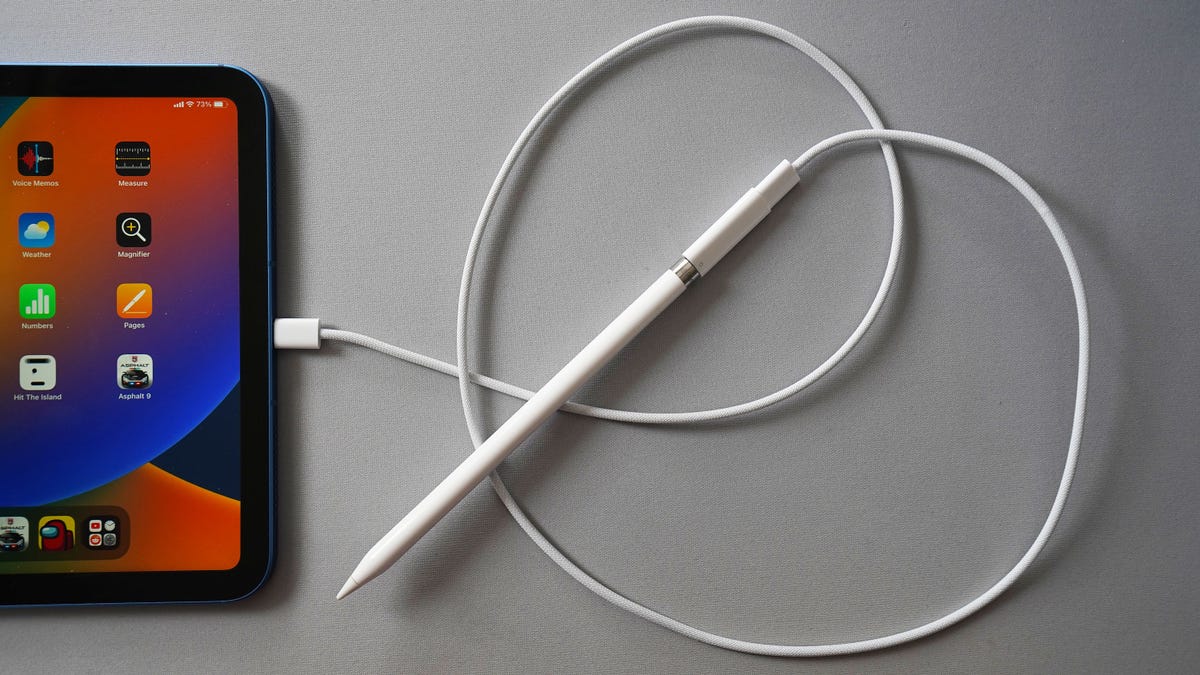 The most recent iPad has received a USB-C upgrade. June Wan/ZDNET

USB cables will be less and less interchangeable

We all have USB-C to USB-C cables scattered around our houses, and until now I have been using them quite interchangeably without thinking about the safety of the device or the potential transfer speed. However, I also bought cables from trusted suppliers such as Anker, Nomad and even Apple (to charge my MacBook Pro and iPad Pro).

The USB-C cable from Amazon Basics for €11, marketed since 2020, that I bought for my basic charging needs should be ok, because it has a nominal power of 60 W and supports USB 3.1 Gen 2 (10 Gbps). But a cable that comes with a cheap Chinese lighting gadget that I have stored in my cable box and use from time to time? Probably not.

And just because a cable supports a fast charging rate and power does not mean that it is compatible with USB 3.2. For example, Anker cables only support higher speeds if you buy them USB-IF certified with a relatively short service life, which means that they will not be useful to you on a daily basis for charging.
Anker's best-selling cable can withstand a load of 100 W


Anker's best-selling cable can support a 100W charge, which makes it a good charging cable, but you won't be able to transfer data faster than with USB 2.0. As a content creator, you will therefore need a few high-end cables just for data transfer.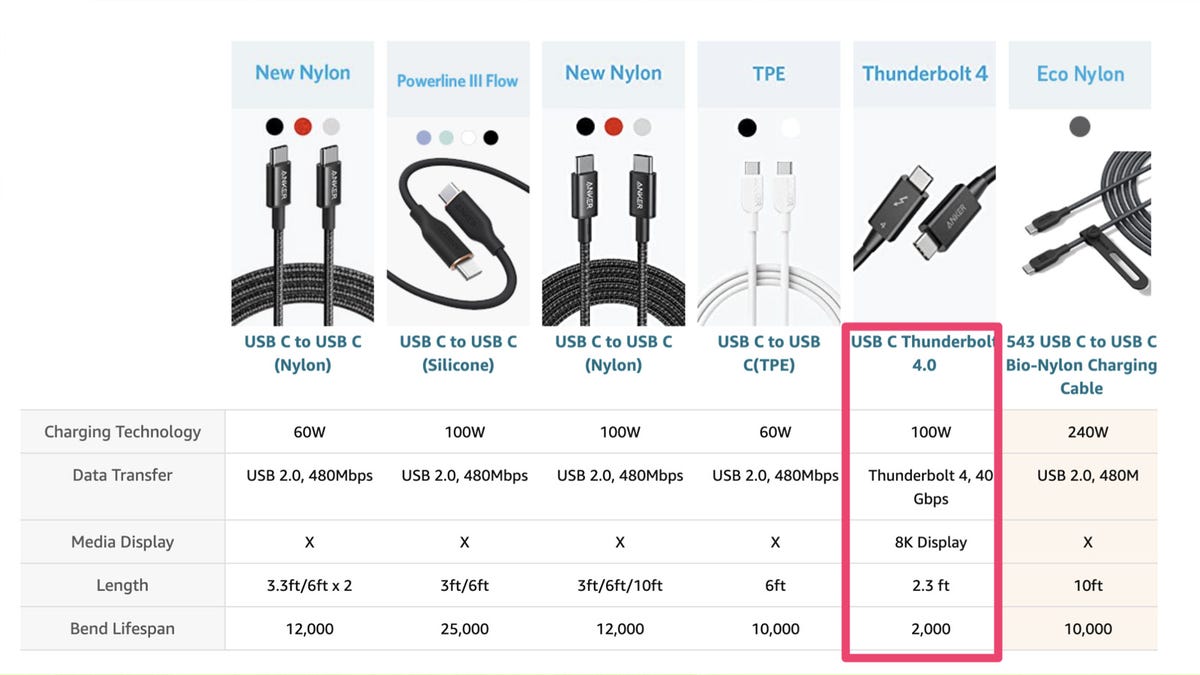 Screenshot by Jason Perlow/ZDNET

USB-IF or MFi?


All this leads to some confusion among consumers. Because most of the cables currently sold do not have an indication as to the powers and the transfer modes that they support.

Apple's OEM cables are reliable, and its USB-C and Thunderbolt cables are safely interchangeable (although there is a big price difference between the two, and Thunderbolt is too expensive for use strictly as a charging cable). But as for the rest of the industry?

In 2021, the USB Implementer Forum created new logos for certified solutions. So far, the adoption of these logos has not been widespread on retail cables, such as the Anker USB4 40 Gbps mentioned above. And many are not certified; they simply indicate "240W" and do not use the official USB-IF logo.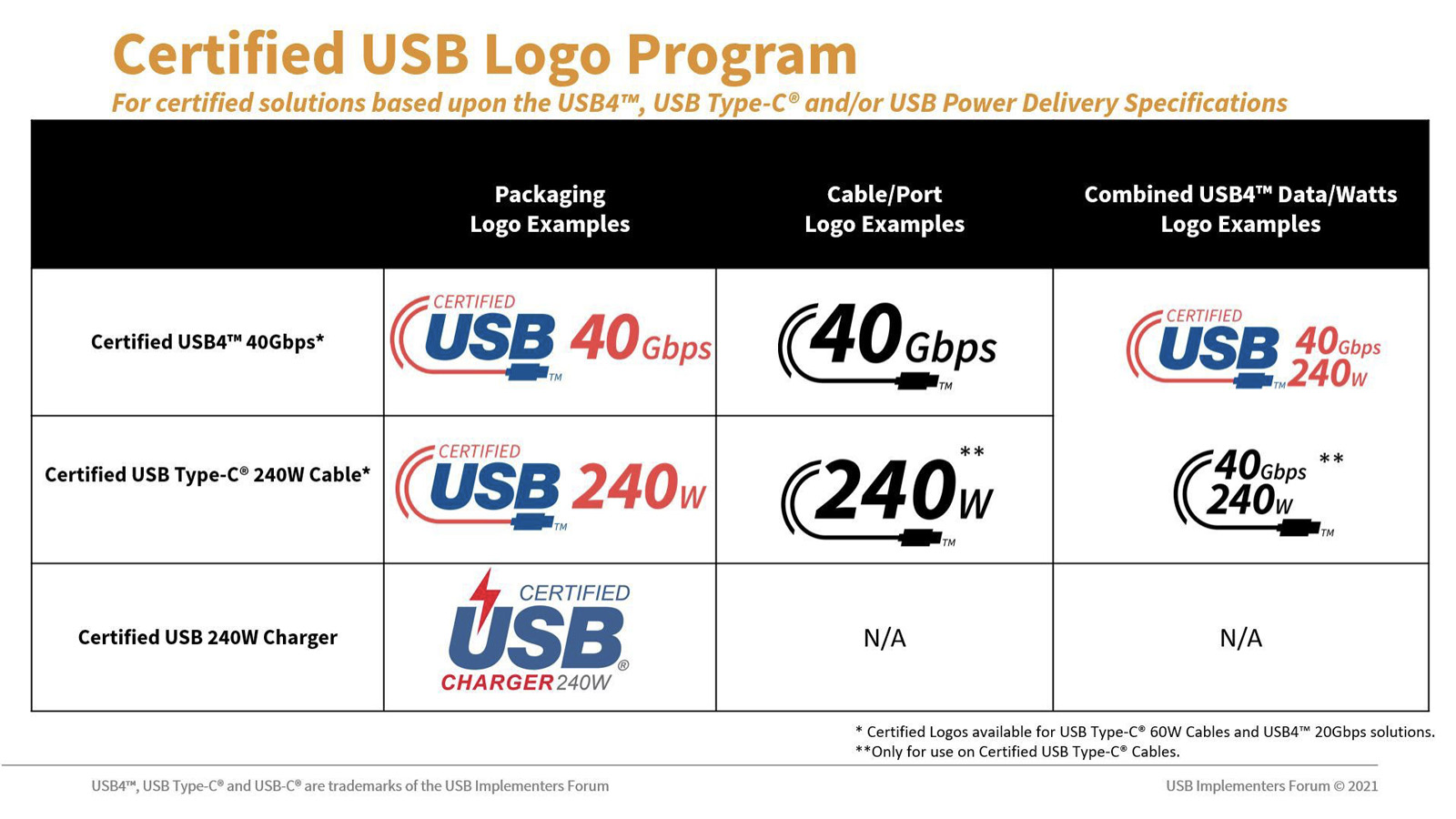 USB Implementation Forum


Apple has not yet indicated whether it will adopt these logos for its MFi products or on the packaging and the iPhone device. We also don t know if the USB-C logos will be increasingly adopted by third parties now that the iPhone supports USB-C.

More importantly, we also don't know what happens when a non-MFi USB-C cable (without Apple's licensed authentication chip) is detected by the iPhone 15. Does it refuse to work (which is sure to irritate the EU), does it issue a scary warning, or will it load and transfer data at slower speeds?

So which label on a cable is more important today, MFi or USB-IF?

Source: "ZDNet.com "